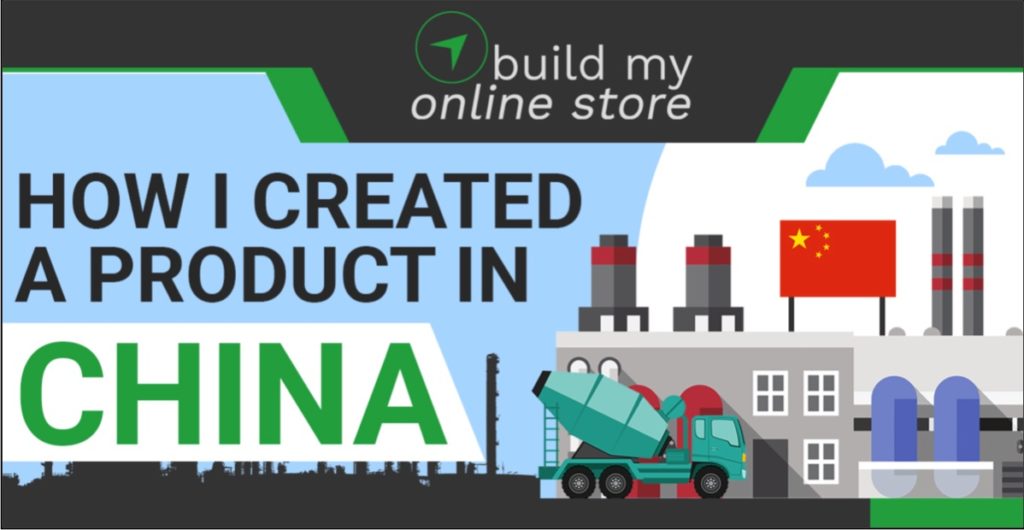 Welcome to Part 1/3 of the "How I Created A Product in China" series where I document my journey in sourcing a physical product and showing you how to get into manufacturing.

Is manufacturing in China only for pros?

You're about to find out.

Join the VIP mailing list to get the latest update for free.
Starting With Why
You want to start an online store but don't know where to start, or maybe have way too many ideas.

You've listened to my podcast but you're looking for the perfect niche that is guaranteed to be a success – so you end up doing research for days, weeks, and months.

Well guess what, the perfect niche does not exist!

So just get over your fears and START.

This post is going to show you how I did it and the process I used to get an idea, find a supplier, and prototype a sample -with a full-time job that consumes my day from 7:00AM – 6:00PM.

Using only Pinterest, email, and the good old telephone – all tools that you have too, so no more excuses.

You'll also see pictures and a short video of the actual sample. Enjoy!
Summary of This Post
Finding an idea & how to get into manufacturing
Who else is selling this?
Is anyone searching for this?
Rip, Pivot, and Jam
What is Alibaba?
Is it worth manufacturing?
Back of the napkin math
Contacting the supplier
The initial sketch
Branding
Ordering the sample
Key takeaways and sample demo
How To Get Into Manufacturing: Find An Idea
Travel has always been a big part of my life, having lived back and forth between Asia and the United States since I was a kid.

I never had a way to keep my passport, boarding pass, immigration forms, foreign IDs, and ATM cards handy, often shoving these items somewhere in my jacket, pocket, or backpack.

One time in college, I lost my passport as it fell out of my front seat pocket during the flight.

Not fun.

In Episode #33 of the podcast with Ezra Firestone, we discuss the importance of building a business around people that share common experiences in life. Why?

Because the deepest human desire is wanting to be being understood.

In my private mastermind group, one of our core beliefs is having the mobility freedom to travel and explore the world anytime and anywhere, enabled by having an online business.
We believe building a long-term, value adding, and sustainable business is the best way to get control of your income, time, and mobility freedom in life.
We believe that a real education starts after school and that it never ends, because you are constantly growing everyday with new knowledge, thoughts, and ideas.
We actively seek out like-minded individuals because we are the average of the five closest people that surround us.
Our fundamental worldviews are on the fringes of society and most people just think we're crazy.

Travel is something we are all passionate about, so that's where I wanted to go this.
---
A convenient travel accessory designed for the world traveler to keep everything handy – passport, boarding pass, immigration forms, ATM cards, IDs, and the bling-bling.
---
Other reasons I decided on a travel accessory:
Relatively cheap to prototype and test
Good margins
Not fragile
Easy to inventory and ship
No assembly required
Inherent value could be ambiguous
Low turnover to newer product models
---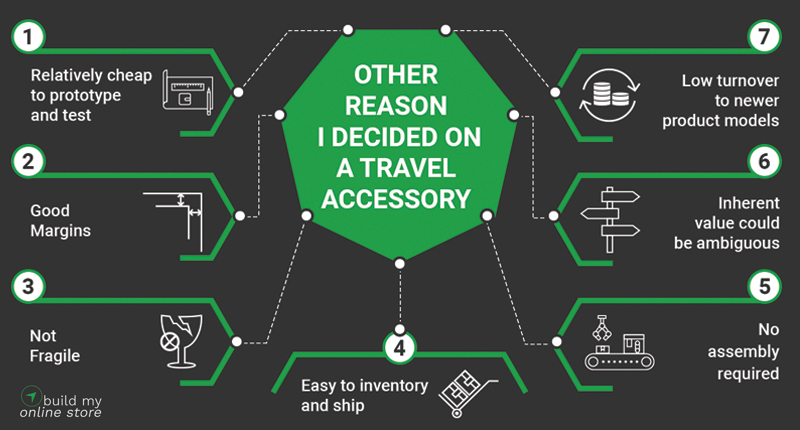 Who Else Is Selling This?
All handy-dandy on paper – my first task was to check the pricing on eBay, Amazon, and Etsy to see what was on the market. I looked at the completed listings and recent purchases to get a sense of what people were buying.

This isn't foolproof research as it's very unfocused, but it does provide a direction on what people are gravitating towards. On the other hand if you're first to market with no competition at all – it's a huge red flag.

Why? I go into more detail about this with Andrew Youderian from Ecommercefuel.com on this webinar.

It's much easier to take something and improve upon it, or bring it to a new market. Here are some basic ideas on improving the value proposition:
What can I provide a better solution for?
Can I create it in a different color?
Can I create it in a different size (bigger/smaller)?
What issues are they having trouble with?
What unsatisfied wants do they have?
Can I take the niche into a new realm?
Can you make an existing product cooler?
Can you make the category more luxurious?
Amazon, Ebay, and Etsy:

---

---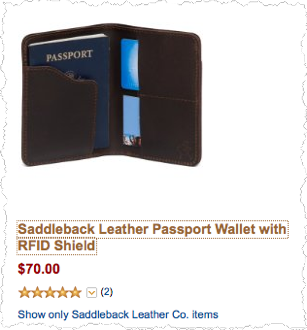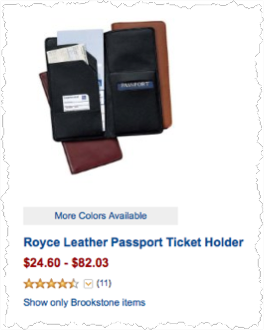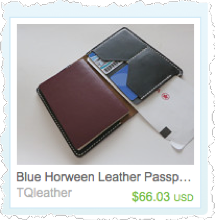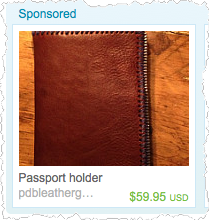 Takeaways From Amazon, Ebay, and Etsy
Branded products command a pricing premium
Plenty of listings across the low ($20), mid ($50), and high-end ($100+)
Material and manufacturing quality has significant impact on pricing
I'm not into cheap, black, leather me-too type products.
Is Anyone Searching For This?
Another data point to research was search traffic in Google, as it provides an idea on the marketplace demand. If nobody is searching for your product, it's probably not a great one to get into.

Sure, you could be the first to create a revolutionary product – but it's much easier to take an existing product and improve upon it.

When doing keyword research, There are three types of matches you must be aware of: broad, phrase, and exact. Exact match gives you the most accurate result on how many times a keyword has been searched for in Google every month.

Don't get fooled by broad and phrase matches. Your assumptions will be wrong and won't find out until it's too late.
---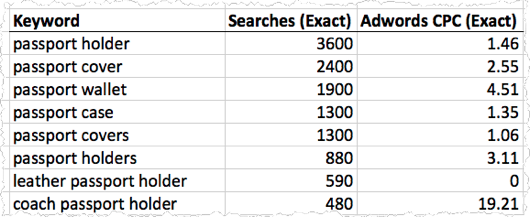 ---
Exact monthly searches for "passport holder" came out at 3,600, which means there are about 100 people searching for it every day. It's not a terribly high number, as I usually put 3,000 as the absolute minimum.

Adwords Cost-Per-Click tells you how much advertisers are willing to pay for the traffic. By definition, if someone is paying for ads they should be getting ROI that makes it worthwhile. As a rule of thumb, you want to look for something that is in the $1.00-$2.00 range.

In the end, keyword research is just one data point and it's definitely not the only way people can find you. Think of it as putting a ladder against the right wall before you climb up.

If this SEO portion confuses you, join the mailing list to get more information on my upcoming SEO training course.
Are The Top 10 Beatable?
Another piece of the puzzle was sizing up the top 10 ranking websites on Google to see if they could be outranked. Only the top 10 websites matter because people rarely visit pages 2, 3, or 4 in search results.  I used an SEO tool called Market Samurai to help with this.
---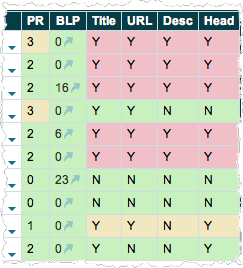 ---
My Takeaways:
PageRank is relatively low, all within the 0-3 PR range
Half don't have their on-site SEO optimized (Title, URL, Desc, and H1 tag)
Very few backlinks on virtually all the top 10 sites
All good signs – but it would still take some work to get ranking.
Rip, Pivot, and Jam
---
The keyword has decent search volume and the top 10 in Google look beatable. It was now time to dig in and go a bit deeper with this idea. Reflecting back to my travel experiences, I wanted a product that would:
Protect my passport from wear and tear
Hold my passport, boarding pass, and different currencies
Store my foreign bank ATM, ID, or membership cards
Hold receipts, immigration forms, or other documents I needed
---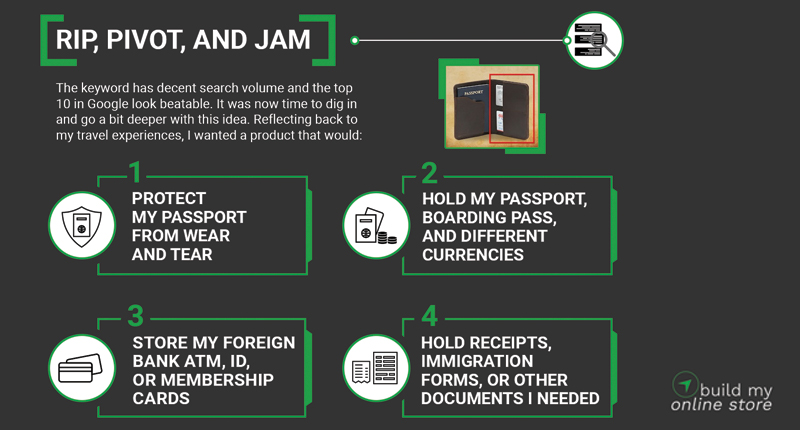 ---
Easier said that done, because well…I don't have any experience in product design.

But that wasn't going to stop me!

A picture is worth a thousand words – I went to Pinterest and used a tool called SnagIt that allows you to take computer screenshots and add text, arrows, or other shapes on top of it.

After browsing around for 30-minutes, I found 3-4 products with features I wanted to include in my own design.

By piecing together different parts of each product, I had a general idea of what I wanted.

The next step was to figure out the manufacturing.

Where would I find someone to make this, now that I have an idea of what I want?

I ventured on to Alibaba to search for some suppliers.
What Is Alibaba?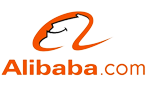 Alibaba is a portal that connects buyers and manufacturers around the world, with a focus on the Chinese market.

Enter what products you are looking for, like a refrigerator, scarfs, or belts – and Alibaba will provide manufacturers based on your keywords.

Each supplier has a profile where they list the products they make, sample photos, business history, certifications, management info, and much more.

However, not all suppliers are equal as you can have middlemen (trading companies) pretending to be the actual manufacturer, dishonest suppliers, and scammers. But Alibaba is constantly improving buyer protection through certifications, on-site visits, and third-party verifications.

Chinese suppliers are not native English speakers, so you will have language, business etiquette, and communication issues to overcome. Don't bother with official contracts because cash is king, especially as a first time buyer with no established relationship. Check out Episode #3 or the China Opportunity Podcast for more information on sourcing products in China.
Due Diligence On Alibaba
My first order of business was to filter out suppliers in China that did not meet basic trust metrics on Alibaba. Initial criteria I went with:
Gold Supplier: Gold Supplier is a premium membership for suppliers on Alibaba.com. To qualify for a Gold Supplier membership, a supplier must complete an authentication and verification process by a reputable third-party security service provider appointed by Alibaba.com.
However, I have heard stories of companies buying Gold Membership just to mask their shady business practices, hence the on-site verification.
On-Site Verification: Onsite Check is a new verification process for Gold Supplier members in China (Mainland). The business license and contact person information for each member is verified by a third party verification agency. In addition, member premises have also been visited by Alibaba.com employees.
I then went through some more details such as:
Pictures: Are they comfortable showing their offices?
Background: What's the story of their business, and are they proud of it?
Professionalism: Do they have an external website outside of Alibaba.com?
Presentation: Did they invest in stock photography to showcase their products?
Communications: Are they transparent with contact information?
Gut Feeling: What's the vibe I got from my first impression?
---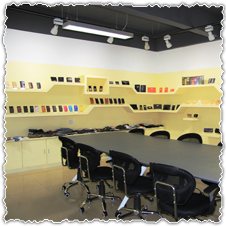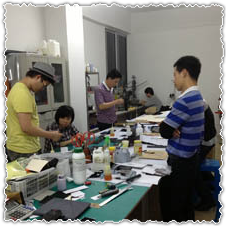 ---
After sorting through a dozen suppliers, I found a boutique shop that matched my needs compared to the mass produced cheap leather covers you typically see at airports.
They also worked with low minimum orders (MoQ) compared to other manufacturers that often required minimums in the hundreds. This gives enormous flexibility when starting out.
So even if this product didn't work out, the downside risk was quite minimal.
---

Is It Worth Manufacturing?
On Alibaba, suppliers also disclose the manufacturing price range of each product.

Armed with the end-user sales data on Amazon, Ebay, and Etsy – I had an idea on the gross margin.

I then came up with some assumptions on shipping, fulfillment, marketing, and other expenses on a per unit basis to get an idea estimate on net margin.

Because of Murphy's Law, I assumed my expenses would be higher than expected.

If you're not 100% clear on the difference between gross margins and net margins, here is a quick primer:
Gross: Profit after all costs directly related to the sale (variable costs)
Net: Profit after all costs directly related to the sale AND expenses (variable + fixed costs)
If you are selling $100,000 worth of product every month, you could still be losing money because your expenses from marketing, discounts, operations, and other costs are out of control.

The result is losing money on every unit you sell until you go broke, so don't let financial ignorance destroy you.

In an upcoming podcast episode, e-commerce expert Shirley Tan from E-Commerce Systems says 40% gross margin is the absolute minimum you must have to build a sustainable products business.
---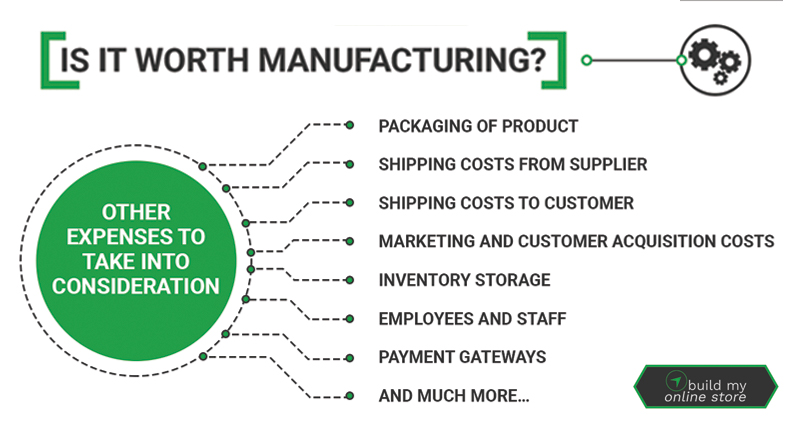 ---
Other expenses to take into consideration:
Packaging of product
Shipping costs from supplier
Shipping costs to customer
Marketing and customer acquisition costs
Inventory storage
Employees and staff
Payment gateways
and much more…
---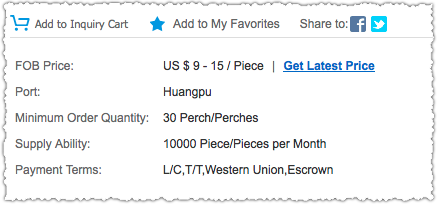 ---
For this product, I assumed a higher manufacturing price per unit of $15 US and an extra $25 on top for shipping, marketing, and other expenses.

A retail value of $60 US seemed like a reasonable price point based on data from Amazon and Ebay, resulting in a net profit of $20 per unit. I will double check this again later by asking the supplier how much their customers typically retail the end product for.

Those margins are not exceptional, but I felt it was still worth exploring just to learn the manufacturing process.
Back Of The Napkin Math
These estimations are used to ballpark profit numbers with basic assumptions on your conversion rates, search traffic, and product margins. As with all financial models, they are subject to garbage in, garbage out (GIGO) results when assumptions are off.

The Question: What ballpark range of monthly income can I expect with a best-case traffic scenario, a mediocre conversion rate, and a lower estimate of net profit margin?
---
---
Exact Monthly Search Volume: 3,600 (20% of total search)
Long-Tail Search Volume: 14,400 (80% of total search)
Total Search Volume: 18,000
Typical Click-Through Rate As Rank #1: 50%
Retail Price (per unit): $60 US
Manufacturing Costs and Expenses (per unit): $40 US
Net Margin (per unit): 33%
Monthly Total Traffic: 9,000 (50% click through of 18,000 total searches)
Conversion Rate: 2% (Industry average)
Monthly Units Sold: 180 units
Monthly Gross Sales: $10,800 (180 units x $60 US)
Monthly Net Profit: $3,600 US (33% net margin)
---
It's better to play it conservative and get surprised on the upside, rather than finding out that your assumptions were unrealistic a year down the line. There are plenty of other factors that can affect a business, so don't take these calculations as gospel either.

If you want to try this exercise too, click here to download this tool for Microsoft Excel.
Contacting The Supplier

Alibaba has an internal messaging system for communication between suppliers and buyers. Make sure you fill out a robust buyer profile because suppliers do get to see all your information before they reply. Be professional because you could also be marked as spam, get rejected, or blacklisted – and it stays on your record.
---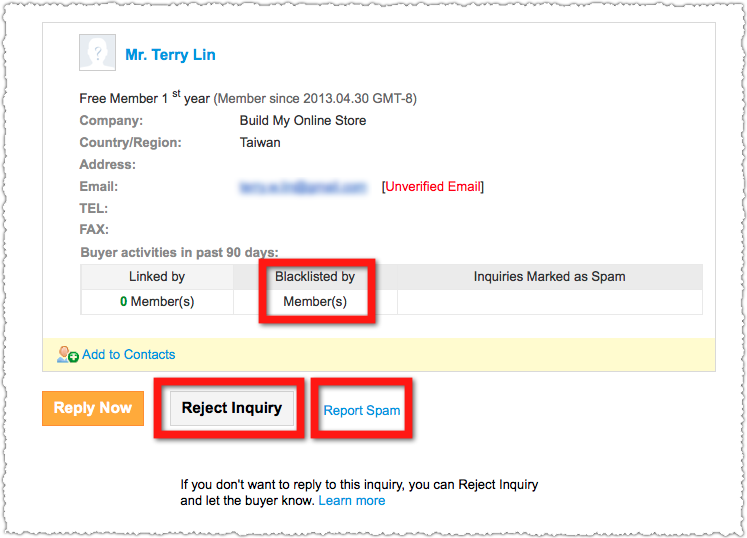 My Initial Inquiry
---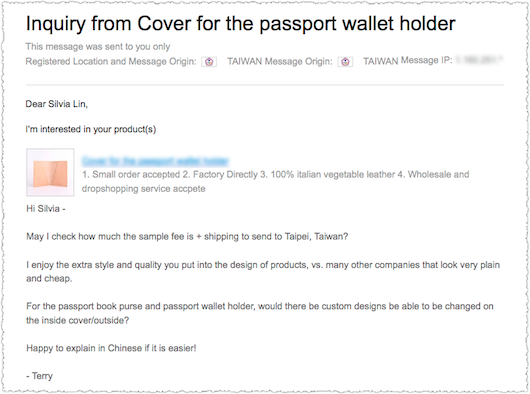 How Did They Reply?
---

---
TRANSLATION: "Yes, our company makes high end leather products and accessories. We also have custom design services for our hand made product lines. What do you have in mind? Can you send me some pictures?"

A picture is worth a thousand words.

I took their existing stock photo on Alibaba and combined them with screenshots from Pinterest to communicate what I wanted in the sample product. Everything was pasted into one large canvas in Photoshop and I emailed it over within a few hours.
What Did I Have In Mind?
A: Pouch for customs forms and plane ticket
B: Pouch should also fit receipts
C: Sleeve for boarding pass / train ticket
D: Where the passport should fit
E: Capacity to store bank ATM, IDs, or membership cards
---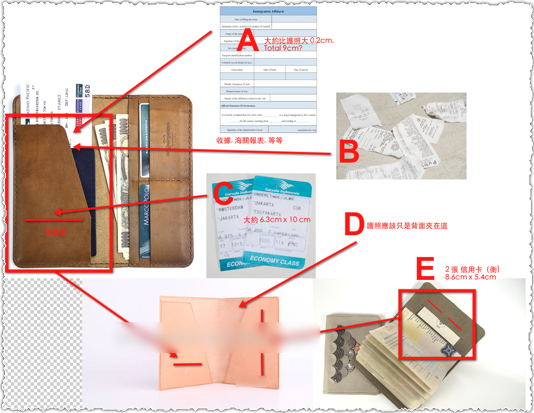 The Initial Sketch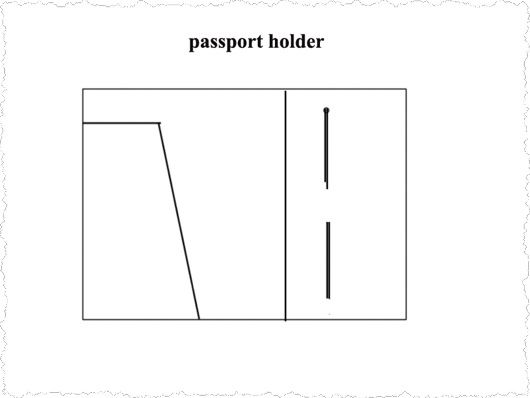 ---
My main point of contact was with a salesperson that communicated the different requests with in-house designers, and vice versa. Within 24 hours there was a basic sketch, but it wasn't what I had in mind yet although it was a good start.
We then discussed other details such as:
Material: What type of leather and color did I want?
Final Touches: Did I want a raw or polished look on the edges?
Branding: What words did I want embossed on the cover?
Packaging: How did I want to present the product?
Chinese suppliers constantly hear how new buyers are promising to order large volumes of product, only to find out there is no follow-through. Don't make this mistake – it doesn't help build trust and it's a bad way to start the business relationship.
---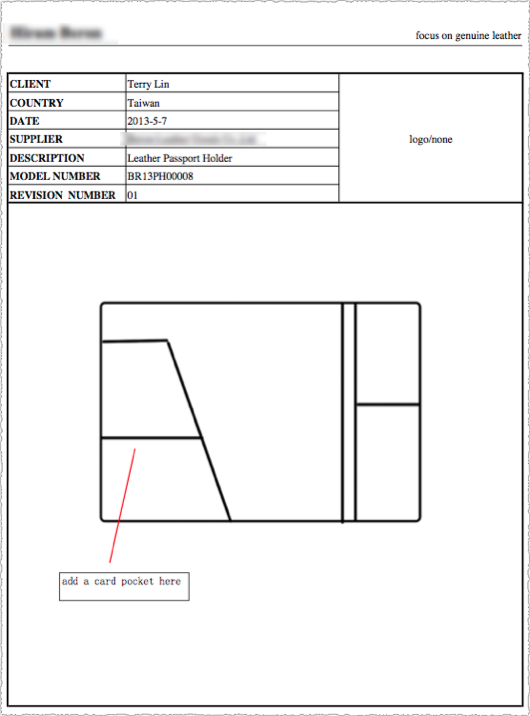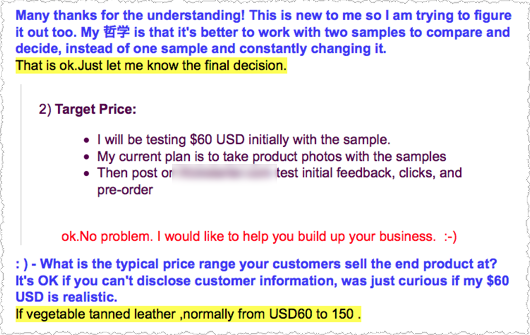 Branding
The product had no brand, logo, or website yet because getting it shipped was the most critical goal of all – everything else was just a distraction. As we finalized the design my supplier insisted I get creative with branding, otherwise the product would have no soul.

"Balla" and "yeahbuddy" are two phrases that resonate very well within my private mastermind group, as it's an inside joke we use amongst each other as congratulations. So that's where I decided to take things.

For me, this would bring a good laugh and remind me of the other entrepreneurs that shared a common passion for travel. The word #balla has a special meaning for each of us, and I wanted the spirit to be represented in this product.
---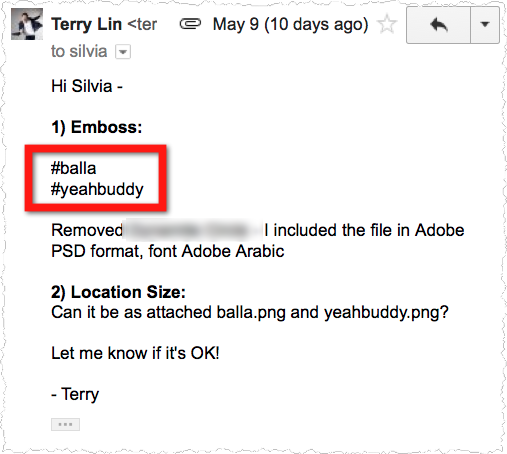 Ordering The Sample
---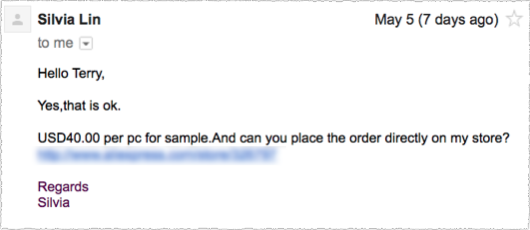 ---
The samples cost $40 US to manufacture and ship – very expensive, but 50% cost of the sample would be refunded upon a final order. As it was also the first prototype, I also understood the supplier needed to be compensated for design work, time, and effort put in to create it.

I ordered two samples via AliExpress where manufacturers list their sample and wholesale products. For payments on AliExpress, you'll also need to verify that you are the account owner of a ATM card by providing the following:
Scanned copy of the ATM card
Government-issued ID
Bank statement
AliExpress will then review the documents before the payments can get processed. My guess is this prevents people from stealing credit cards and purchasing thousands of slippers or other random products in bulk!
---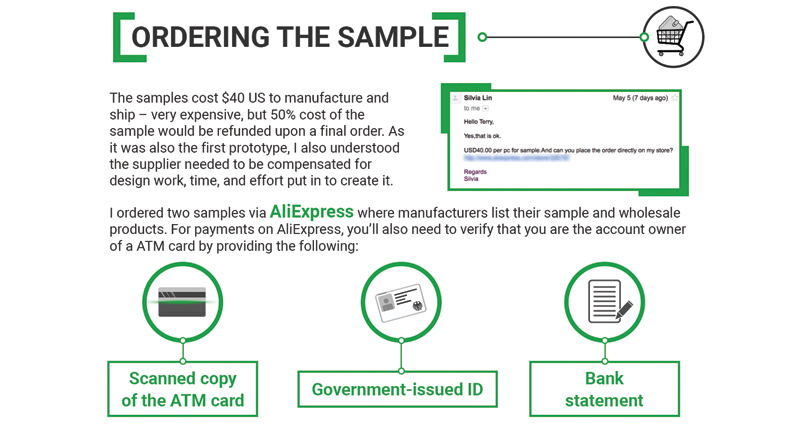 ---
Receiving The Sample
The sample arrived six days after payment and I was impressed. The quality of craftsmanship definitely gives big fashion brands like Salvatore Ferragamo a run for their money. The presentation and packaging that arrived with the sample blew my mind away.
---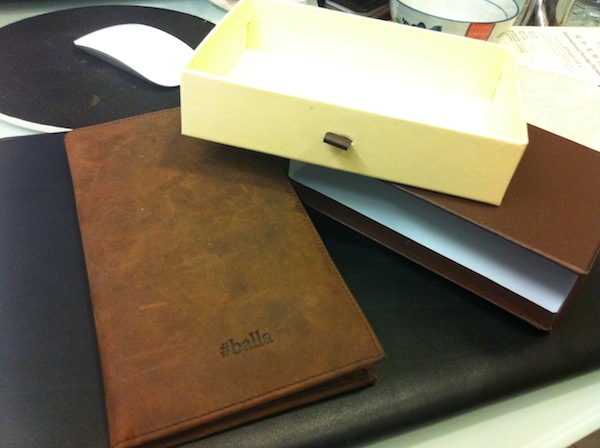 ---
Check out this video to see what I mean:
---
Stay Tuned For The Follow-Up Post
I hope you learned a thing or two about sourcing products in China and follow me as I document this journey. Make sure you join the VIP mailing list below to get the latest updates sent to your inbox for free. In the next post, I will discuss the following:
Presale feedback from the mastermind group
Product feedback on a trip to Hong Kong
Potential additions to version 2.0
Choosing a shopping cart system that allowed pre-orders
Step by Step Recap
Do keyword research to gauge demand and competition
Research what's already selling in the market
Find your unfair advantage and solve a problem
Gather potential product ideas through pictures
Find a supplier and conduct due diligence
Crunch your numbers to ballpark profitability
Reach out to suppliers and try to find a good match
Cooperate on product design and set realistic expectations
Finalize the sample and order it
Validate the idea by collecting pre-orders like a #balla
---
Download the Free Infographic
We made a free high resolution step by step infographic for you to enjoy and replicate this process of finding and making a product – enjoy!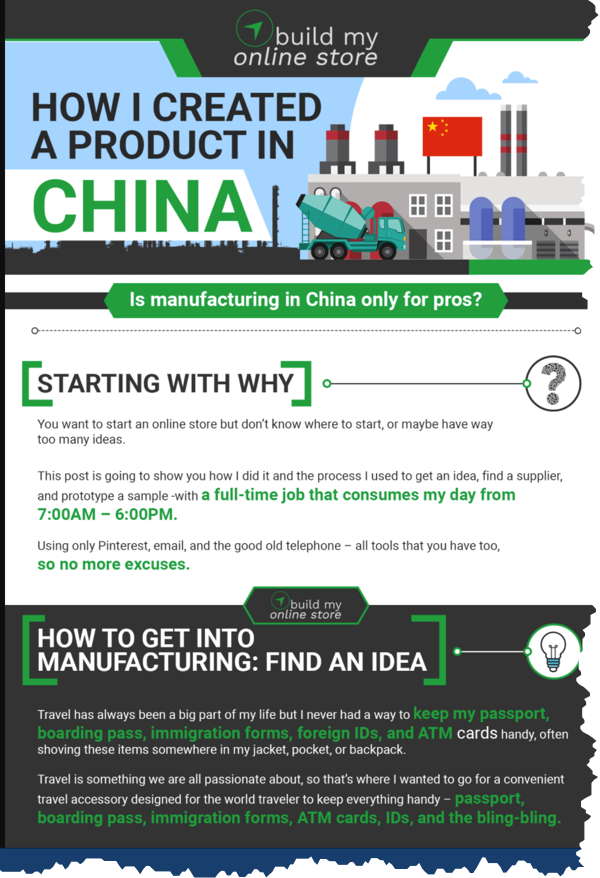 Click Here to Download the Full Infographic
Ready for Part 2 and 3 of Manufacturing a Product
Read part 2 now!

Or….skip over and hop to part 3

Subscribe to Build My Online Store in your favorite podcast player, or check out the episode list of our eCommerce podcast.
---