Done-For-You Cart Abandonment Email Setup
Are you in a situation where you have no time to set up cart abandonment emails and don't want to go down the path of finding a software solution, learning how to integrate it, and writing the email content?
Chances are it's just one of the many things on your to-do-list, so we're offering to help set this up:
100% automated email campaigns that encourage the customer come back and finish checkout.
100% custom content in emails so it matches your brand voice and messaging.
100% mobile-friendly emails so customers can read them on a smartphone or tablet.
Integration with Shopify, BigCommerce, Volusion, Magento, or WooCommerce.
Revenue tracking from every email sent that including opens, clicks, order history, and more.
I'm aiming this service at busy store owners who want to focus on growing the business but don't have time for technical stuff like integrating the APIs, writing email content, or making sure everything is set up properly.
This service package at $197 USD will include integrating your shopping cart with a third-party email system, Mailchimp account, and Google Analytics. All the major shopping carts are compatible including Shopify, BigCommerce, Volusion, Magento, and WooCommerce.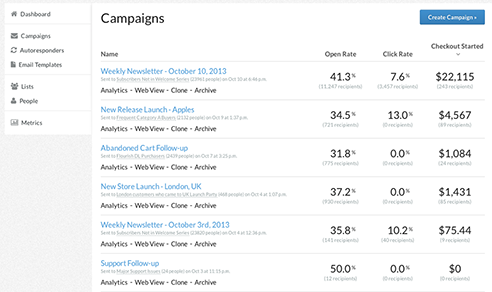 Q: Why should I set up cart abandonment?
Customers who abandon your shopping cart are already at the final stages in the buying cycle. They've visited your site, looked at your products, and decided to purchase. But sometimes folks get distracted, forget, or have lingering objections at checkout and it's an easy way to recover sales that would otherwise be lost. Recovering even 20% of these orders will significantly boost the profitability of your business.
Q: How will the cart abandonment emails work?
When a cart is abandoned, two emails will automatically go out after 4 hours and 48 hours to remind the customer to come back and finish checkout. We can change the timing and content of emails based on your needs. The emails will also be mobile-friendly with photos of the products that they abandoned. Once they are sent, the customer will also be added to a custom segment in Mailchimp that you can revisit with a future email marketing campaign.
Q: Who is this for?

This service is for e-commerce stores doing at least 30 sales per month in order for you to see results. You will need a level of traction for cart abandonment setup to make sense. If we cannot recover any orders within 30-days and you are not happy with the service, we offer a 100% money back guarantee.
Q: How can you help me?
We will help you integrate all the moving parts and create a cart abandonment email sequence made up of two emails. The first part involves linking your online store with our cart abandonment software Klaviyo, Google Analytics, and Mailchimp account. Then, we work with you to create two email sequences that are automatically sent when a customer abandons a cart.
Q: How will the integration work?
The integration works by making your shopping cart, email list, analytics, and cart abandonment software talk to each other. This also allows you to track revenues from specific campaigns, lists, or even customer segments. We'll need a login for your website in order to properly integrate the HTML codes and technical side of things. Shopify, BigCommerce, Volusion, Magento, and WooCommerce are all supported. You can find a complete list of integrations here.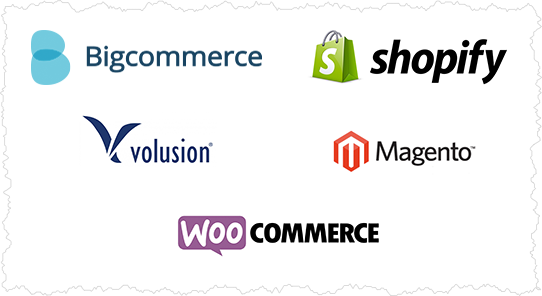 Q: Can you help me write the emails?
Yes, we will help you write the content in both emails that will go out in the cart abandonment sequence. In addition, the emails will also pull the product photos from your online store to remind customers on the products they were about to buy.
Q: How can I track how many orders are recovered?
Our dashboard in the cart abandonment software will have a dashboard that tracks the revenue of each email campaign. You will be given a login to check the latest status anytime you want. Existing customers on your email list are also cross-checked with order history to clearly identify the sales they have contributed to your online store.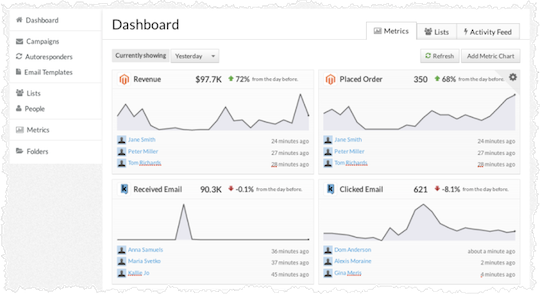 Q: What if my shopping cart has locked the cart abandonment features?
It doesn't matter because of how the software works. Even though they have locked the features, we can still access the cart data and send emails through a third party, bypassing this entire restriction.
Q: Can I customize the cart abandonment emails?
Yes, we have two email templates that will be addedto the cart abandonment sequence. Each template will be customized to include the details of your online store, contact information, and brand voice.
Q: Besides cart abandonment, how can this solution help grow my business?
Because the shopping cart and email software are integrated, you have much more control over the entire email process. We can create new email campaigns that target customers based off previous purchases, click behavior, or analytics. Examples of this segmentation could be customers that ordered two or more products, opened your email but didn't purchase, cancelled the order, returned the product, and much more. If you require help with ongoing email marketing campaigns, we can work something out in the future after cart abandonment is setup first – one step at a time!
Q: What happens after I purchase this package?
After making a payment of $197 USD, Terry will reach out to you within 24 hours to get started. To make things easier, please create a custom user for us in your shopping cart so we can pull the API information out to integrate with the email software. This service is backed by a 30-day, 100% money back guarantee.
If you aren't happy with the service and don't recover any abandoned carts within 30 days, we will give you a full refund with no questions asked. If you have any questions feel free to contact me at terry@buildmyonlinestore.com