Podcast: Download
This week I got Brendan Tully from the Search Engine Shop to talk about online business fundamentals, and how business owners need to get their USP ironed out before asking for more traffic to increase sales. We also go through a case study of the best practices at Didgeridoo Breath, the #1 didgeridoo online store in Australia and North America. The Search Engine Shop is a digital consultancy with offices in Perth & Sydney. They work with small, medium and big business to ultimately help clients make more money by properly using technology and the internet.
[ois skin="Optin (Post)"]
Topics Discussed:
03:00 – Limits of being a pure SEO firm
04:00 – Misconceptions of E-Commerce beginners
04:20 – Why traffic is not the magic bullet to success
05:00 – Brendan's model of online business fundamentals
07:10 – High priced vs low priced items
07:40 – Quick traffic wins – Google Merchant Center and Google Products
08:55 – Why you need a both organic and paid traffic strategy
09:50 – Paid search and mobile/tablet search results
10:20 – Being everywhere and getting eyeballs
10:40 – What is a didgeridoo, and a case study of Didgeridoo Breath
12:35 – Communicating with a client on what they need to do online
13:20 – Finding and qualifying the right client as a business consultant
14:10 – Content marketing and the second business of Didgeridoo Dojo
15:20 – Measuring the ROI of content marketing
15:55 – Why outsourcing social media doesn't work
17:00 – Increasing conversions with video marketing on each product page
18:00 – Capitalizing on video, audio, and text in product descriptions
18:25 – Brendan's view on long-term SEO in the upcoming years
19:40 – Three conversion "quick-wins" for E-Commerce businesses
21:40 – Using live-chat tools with your website visitors
21:55 – Importance of high quality commercial photography
22:30 – Why a mobile commerce website is not for everyone
24:20 – Getting past the hype around mobile marketing and websites
24:50 – How to evaluate if you need a mobile website
26:20 – Does email marketing still work, and how powerful is it?
27:25 – What content should you put in your email newsletter?
27:45 – Challenges for small businesses moving into the next year
28:00 – Two key questions to answer for long-term business success
28:30 – Tips for hiring an external business consultant
29:30 – Business diagnostic tool and getting clients to re-frame their thinking
Online Business Model: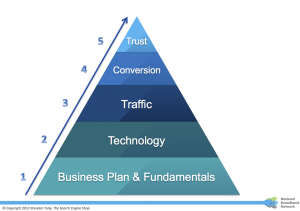 Business Diagnostic Tool:
FREE AUDIOBOOK: Check out buildmyonlinestore.com/audible to get a free audiobook download from Audible when you sign up for a free 30-day trial. I do get a commission when you sign up, so many thanks for supporting the show!
NEED HELP? If you need a consulting session to take your idea or e-commerce store to the next level, check out buildmyonlinestore.com/help to get in contact with me, or shoot me an email terry@buildmyonlinestore.com.
NEED TRAINING? Interested in online eCommerce master classes about SEO, marketing, and conversions? Help choose a topic by filling out a one question survey at Build My Online Store.
Mentions in the Episode:
Didgeridoo Dojo (no longer online) didgeridoodojo .com/
Episode Length: 31:20
Download Options:

Direct Download: Or right-click here and click "Save As" for a direct download
iTunes: Listen and subscribe on iTunes for free!
Android: Listen via Stitcher Internet Radio streaming
Blackberry: Listen via the Blackberry Podcast App
Zune: Listen via Zune
If you enjoyed this episode, leave a positive review on iTunes!