It's really hard to focus now with so many distractions. I've tried things like Steven Covey's time management grid, blocking social media websites, task-list software, or just plain old pencil and paper. None of them really pushed the needle and it wasn't until recently that I stumbled upon a new system that's been working in the past few weeks. Full credit to John Logar in this video for the inspiration.
Four Categories Of Tasks
Most time management philosophy prioritizes tasks around a mix of importance and urgency. But as a small business owner, generating income is what really matters. You're not part of a large company where life and death of the business is your responsibility. This system ranks your daily tasks based on their ability to generate income or not. They are broken down into four categories:
$$$ = Primary Income Generators

$ = Secondary Income Generators

OS = Outsource

TW = Time Waster
#1: Primary Income Generators ($$$)
Asking existing customers to buy again

Sending out an offer

Promoting sales funnel

Promote existing product 

Implementing cart abandonment emails

Sending out invoices

Following up on invoices
Following up on wholesale quotes older than 3 months
Scheduling calls with B2B customers
#2: Secondary Income Generators ($)
Developing strategic partnerships

Writing email sequences

Developing a lead funnel or landing page

Creating a new product or offer

Creating content, guest posting, interviews, etc

Direct mail and offline marketing

Social media marketing

Tradeshows, events, and conferences

Managing paid advertisements

Negotiating discounts on software and tools
#3: Outsource (OS)
Packing and fulfilling orders

Managing live chat

Implementing technical stuff

Programming and 

web development

Graphic design

Market research

Copywriting

Customer support emails

Processing refunds and returns
#4: Time Waster (TW)
Inbox watching

Clicking around analytics

Clicking email links in newsletters

Reading auto responders

Reading forums without intent to implement

Browsing social media

Reading news

Scrolling through iPad

Watching webinars

Playing Clash of Clans

Checking out software and new tools

Buying something you won't use right away

Procrastinating
How To Implement This?
Step 1: Write down all the tasks you've completed in the past week.

Step 2: Label them as $$$, $, OS, or TW based on the categories above .

Step 3: Block off 1-2 hours per day to focus ONLY on tasks marked $$$.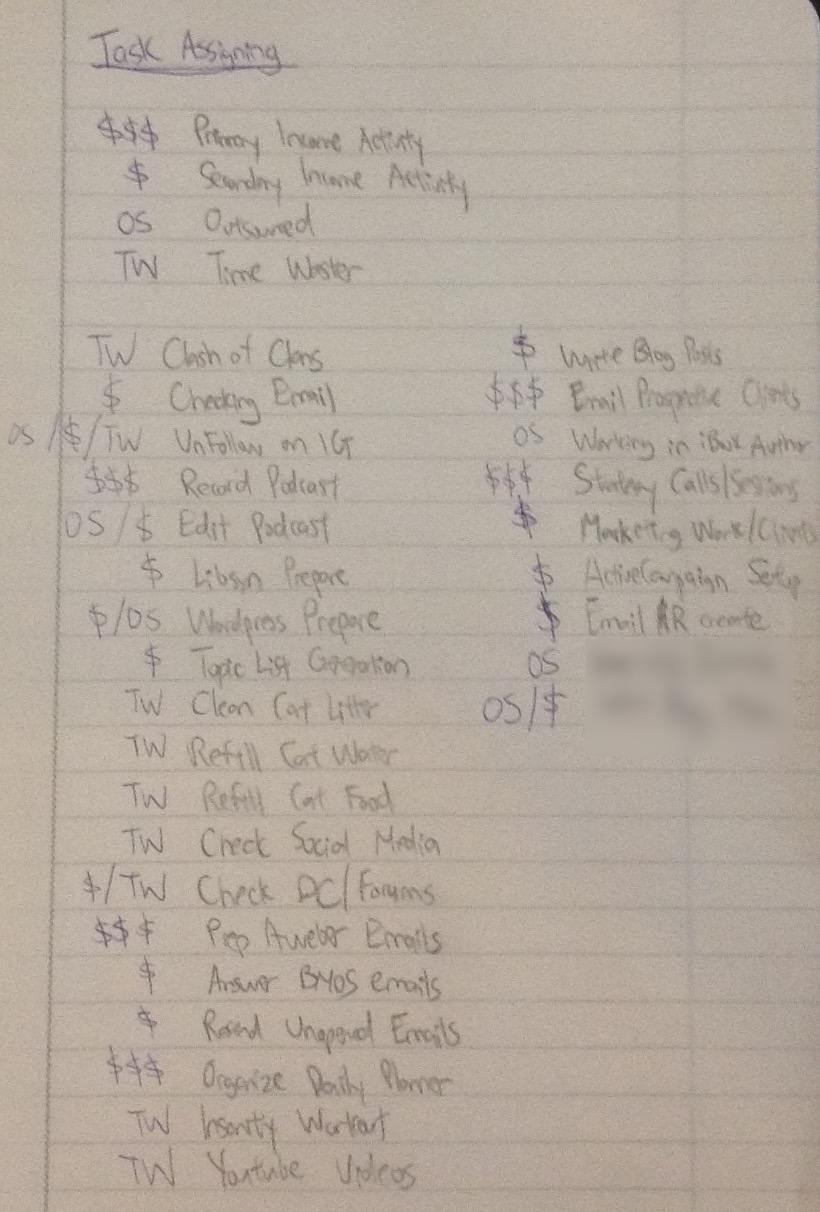 Knowing which tasks are primary or secondary income generators is the big takeaway you should get. It's easy to get muddled in-between them and I hope this gives you some clarity. After this exercise, you should get much-needed focus from the noise that you have to deal with on a daily basis.
Download The Worksheet
Still need help? Check out a printable PDF worksheet that you can use to get started in the Free Marketing Toolkit by joining the mailing list.
Subscribe to Build My Online Store in your favorite podcast player, or check out the episode list of our eCommerce podcast.